2024 Sports Hall of Fame Class & Award Winners - TBA
Apolo Ohno
Olympic Speedskating Gold Medalist Apolo Ohno is an eight-time Olympic medalist with two gold, two silver, and four bronze medals, all in short track speed skating, making him the most decorated American Olympian in the history of the Winter Games. Ohno moved to Colorado Springs at the age of 14 to train at the Olympic and Paralympic Training Center and subsequently went on to earn 12 United States national championship titles in speed skating, including a nine-year streak from 2001-2009. He earned the title of the youngest U.S. National Speed Skating champion at age 14 and was the first American to win a World Cup overall title in 2001, then again in 2003 and 2005. Ohno's accolades include the U.S. Speedskating's Athlete of the Year for 2003, and a finalist for the 2002, 2003, and 2006 Sullivan Award, which recognizes the best amateur athlete in the United States. After his Olympic athletic career, Apolo pursued entrepreneurial ventures in health, wellness and technology and served as the commentator for NBC's coverage of the 2014 Winter Games in Sochi and the 2018 Winter Games in Pyeongchang.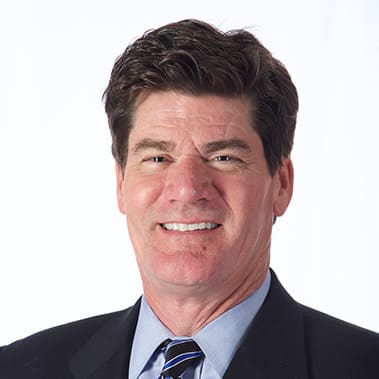 Craig Thompson
Mountain West Conference Commissioner Craig Thompson was hired as the first employee and named Commissioner of the Mountain West Conference in 1998 and continued to serve as the only commissioner in the conference's history until 2022 and is one of the main reasons the Mountain West Conference is headquartered in Colorado Springs. Throughout his career, Thompson was an integral part of the national landscape in intercollegiate athletics, holding many prestigious posts on the NCAA and sport-specific national committees including the College Football Playoff Management Committee. Additionally, Thompson served two terms as a member of the NCAA Division I Men's Basketball Committee. Under the leadership of Thompson, the Mountain West was able to strengthen the conference through member expansion efforts and negotiated nearly $600 million in television revenue to member schools and guided conference teams that participated in five Bowl Championship Series (BCS)/College Football Playoff (CFP) bowl games, six inaugural bowl contests, and 128 total bowls. A 43-year veteran of athletic administration, Thompson spent all but eight of those years sitting in a commissioner's chair, making him the only Football Bowl Subdivision (FBS) commissioner with more than 30 years of experience leading a multi-sport conference.
Crystal Krebs
University of Colorado Colorado Springs Softball Standout Crystal Krebs, a softball standout at the University of Colorado Colorado Springs was a first-team All-American in 2004 and 2005, and the first UCCS athlete in any sport to be a Capital One All-American. Additionally, Krebs was the NCAA DII catcher of the year in 2004, two-time RMAC player of the year and led UCCS to the NCAA playoffs after winning the RMAC regular season and conference tournament titles in 2004. In two seasons for the Mountain Lions, Krebs hit 44 home runs, finishing with a .511 batting average and 129 RBIs. Her 25 homeruns in the 2004-05 season alone set the DII national record. Krebs would also win the RMAC triple crown, leading the conference in batting average, runs batted in, and home runs in both 2004 and 2005. She was the first UCCS softball player to have her number retired and is the first ever UCCS athlete to be inducted into RMAC Hall of Fame. In 2009, Krebs became a member of the RMAC All-Century Team. After her time at UCCS, Krebs played professionally for the National Pro Fast-pitch league and played for the Houston Thunder. Krebs then returned to Colorado to coach at Lewis-Palmer, where she won the 2010 Colorado Springs Gazette Softball Coach of the Year and lead her team to the 4A semifinals. She later went on to teach and coach softball locally at Timberview Middle School.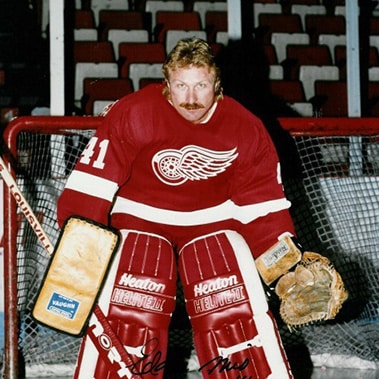 Eddie Mio
Colorado College Hockey Goaltender Eddie Mio was a legendary goaltender for the Colorado College hockey team (1972-1976). Mio earned All-American and All-Western Collegiate Hockey Association honors in his junior and senior seasons at CC, helping the Tigers post an overall record of 23-16-0 in the 1974-1975 season. He logged 3,000 career saves in his time at CC setting the record for most stops in a game (72) and in a single period. After his time at Colorado College, Mio would go on to be drafted 124th in the NHL draft and 138th in the WHA draft. Mio spent a decade playing at the professional and semi-pro levels, including seven seasons in the NHL, where he played with the New York Rangers, Edmonton Oilers, and Detroit Red Wings. When the Oilers moved to the NHL for the 1979–80 season, Mio got his first NHL action, playing as part of the young, highly talented lineup that included Wayne Gretzky, Mark Messier, Kevin Lowe, and Paul Coffey. After his retirement from professional hockey, Mio served as the director of player development with the Phoenix Coyotes and would go to work as a player's agent, representing NHL standouts such as Sergei Federov and Joe Thornton.
Jessika Stratton Caldwell
Coronado High School Four-Sport Star A four-sport letter winner at Coronado High School from 1996-2000, Jessika Stratton Caldwell stood out in cross country, basketball, tennis, and track and field. Basketball is where she excelled most, being named the Gatorade Player of the Year for the state of Colorado during her senior year. Caldwell went on to play basketball at Baylor University where she was named to the NCAA Midwest All-Tournament Team in 2004, BIG 12 Sportswomen of the year during the 2003-2004 season, and team captain for two years. Additionally, she held the Baylor Women's Basketball records in single-season free-throws and 3-point percentage, as well as all-time career free-throw percentage. After graduation, Caldwell played professional basketball in the Czech Republic for the Sparta Praha Basketball Club and was named Most Valuable Female Athlete after averaging 17 points per game. In 2005, Caldwell returned to Colorado to coach the UCCS Women's Basketball team, where she guided them to the RMAC tournament for only the fourth time in program history. After UCCS, she became an assistant coach at Colorado Christian University, leading them to their first Christian College National Championship. Caldwell then went on to be the head coach of the Valor Christian High School Girls' Basketball Team where she coached the team two 4A and a 5A Colorado state titles.
Terry Miller
Mitchell High School Three-Sport Athlete Referred to by the Colorado Springs Gazette as the "greatest high school athlete in Springs history," Terry Miller got his start in football at Memorial Park in Colorado Springs. During his time at Mitchell High School, Miller excelled in three sports, winning state titles in basketball and track & field (100m and 200m), as well as leading the football team to the Colorado state finals. During Miller's senior football season, he gained 2,785 yards and 224 points in ten games to lead Mitchell to the state playoffs. After his standout career at Mitchell, Miller played as a member of the Oklahoma State University football team where he rushed for 3,221 yards during his final two seasons. Miller was a two time All-American, and finished second in Heisman Trophy voting in 1977 as the runner-up to Earl Campbell. Miller holds second place in both career rushing touchdowns and career rushing yards at OSU, and his junior and senior year rushing campaigns rank 3rd and 6th respectively in OSU history. Miller finished his Oklahoma State career with 4,754 yards rushing and 49 touchdowns. He is one of only four to have his number retired in OSU football history and was inducted into the College Football Hall of Fame in 2022 and the Colorado Sports Hall of Fame in 2020.
1980 Palmer High School Girls Swim Team
The 1980 Palmer High School Girls Swim and Dive Team was so dominant, a Colorado Springs Sun sportswriter slated the Terror girls as "the strongest Colorado Springs high school team in any sport, ever." After accomplishing an undefeated season in local dual meets and winning the South Central League Championship under coach Kent Christy, Palmer went on to win the State Championship by 60 points, knocking off Cherry Creek High School which had been on a seven-year run as state champions. At the state championship, the team set the state record and recorded an All-American time in the 200-yard medley relay, won the 200 and 500 yard freestyle and set another state record in the 100 yard butterfly. Second and third places were recorded in the individual medley, as well as second place in the backstroke, and third place in the breaststroke. Three sophomores on the team went on to compete at the national level after their high school career.
1995-1996 Colorado College Hockey Team
During the 1995-96 season, the Colorado College Ice Hockey team, coached by legendary CC coach Don Lucia and assistant coach Mark Tabrum, set an all-time Colorado College record for most victories in a season, going 33-5-4 overall and 26-2-4 in conference play. They won a third consecutive regular season title in the Western Collegiate Hockey Association (WCHA) and reached the NCAA Division I championship game before falling, 3-2 in overtime, to the University of Michigan. The team produced two All-Americans, goalie Ryan Bach and forward Peter Geronazzo, while dominating All-WCHA voting with two first-team (Bach and Geronazzo), four second-team (goalie Judd Lambert, defenseman Scott Swanson, and forwards Colin Schmidt and Brian Swanson), and two third-team (forward Jay McNeill and defenseman Eric Rud) selections. Additionally, seven members of the team would go on to be selected in the NHL first year player draft in the following years.
Bob Graf
Col. F Don Miller Award Winner
Bob Graf has dedicated himself to Colorado Springs community, serving as a coach, a teacher, administrator, and official. Experienced at the high school, collegiate, and professional levels, Graf coached the Army World Class Athlete program, spent six years at University of Colorado Colorado Springs, 17 years with United States Air Force Academy, and 18 years at Wasson High School. During his time at Wasson, he coached the team to the 5A State Track and Field title in 1998 and a state champion or place-finisher in 17 of 18 events. While with the US Air Force Academy, Graf guided Air Force athletes to four Academy records, seven program all-time marks, five conference titles, thirteen all-conferences selections, 31 scoring finishes at the Mountain West Championships, and five appearances at the NCAA West Preliminaries. Additionally, Graf served as the Commissioner of Athletes for three years at the Colorado State Games, the Director for World Police and Fire Games, and the Coordinator of Officials for the World and Pan American Blind Championships. He also officiated at the 1984 LA Olympic games and the 1996 Atlanta Olympic games. Graf is a retired master USA Track and Field Official and spent 20 years as the head starter for Air Force track and field meets. Graf was inducted into the Colorado High School Coaches Hall of Fame in 2012.
Pam Shockley-Zalabak
Thayer Tutt Sportsman Award Winner Dedicated to bringing a positive impact to Colorado Springs, Pam Shockley-Zalabak has left a lasting legacy in the education, sports, cultural, and social needs of the community. During her forty years at the University of Colorado Colorado Springs, including fifteen years as Chancellor, Shockley-Zalabak increased enrollment by 75%, improved diversity among students, facilities, and staff, and played a key role in a $500 million facilities expansion. Shockley-Zalabak would serve as interim CEO at the United States Olympic and Paralympic Museum for in 2021-2022, providing critical leadership through the COVID-19 Pandemic. She spearheaded and served as the executive producer of the US Olympic and Paralympic Museum's award-winning series "Becoming Your Personal Bests: Life Lessons from Olympians and Paralympians." She is the recipient of many awards including the American Red Cross Humanitarian of the Year Award, Pikes Peak Range Riders Silver Spur Award, and the S. Jarred Smith Award for contributions to the community.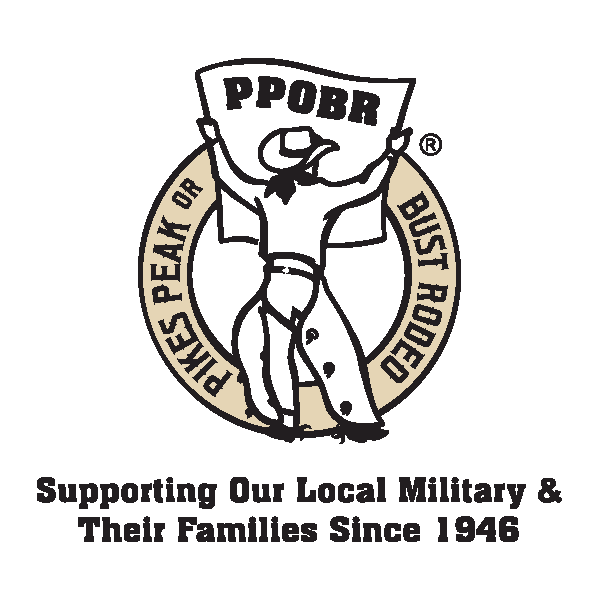 Pikes Peak or Bust Rodeo
Pikes Peak Community Legacy Award Winner The Pikes Peak or Bust Rodeo is the second oldest event in our community and was started by entrepreneur Spencer Penrose back in 1937. The Rodeo has grown to host world class professional rodeos over the years, most recently adding the National Finals Open – the most prestigious rodeo under the Professional Rodeo Cowboys Association circuit system. The legacy of the rodeo in the Pikes Peak region served as a catalyst for the relocation of the Professional Rodeo Cowboys Association National Headquarters and Hall of Fame to Colorado Springs and the renovation of the Norris Penrose Equestrian Center. Proceeds from the Pikes Peak or Bust Rodeo have been utilized to help support local military and their families since 1946.
LOOKING FOR A PLACE TO STAY?